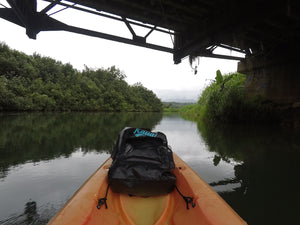 Exploring the Hanalei River
Our curious minds wanted to know, how far up the Hanalei River can you kayak? So we rented a kayak at Kayak Hanalei, loaded our Kauai Surf Co. Lumahai Series Waterproof Backpack, and set out paddling upriver to see how far we could go into the interior of Kauai.
The Hanalei River flows 15.7 miles from the eastern slopes of Mt. Waialeale until it reaches Hanalei Bay at Black Pot Beach Park. The watershed for the river encompasses an area of the highest recorded rainfall on the planet. Though the river plunges 3,500 feet from its headwaters at higher elevations, the last several miles of the river are flat, calm and peaceful (except during heavy rains). This last section runs past the taro fields in the Hanalei National Wildlife Refuge and under the famed one-lane Hanalei Bridge. From the bridge, the Hanalei River runs alongside Hwy 560 towards Hanalei before turning towards the ocean at the Blue Dolphin restaurant. Kayak Hanalei is located behind the Blue Dolphin restaurant, and that is where we started.
It takes about 45 minutes to paddle to the Hanalei Bridge from Kayak Hanalei. This section of the river runs alongside Hwy 560. The riverbanks limit lines of sight along this stretch, leaving the river all to itself in the channel. The river was calm and peaceful on this voyage, as it is on most days.
Approaching the Hanalei Bridge.
Going under the bridge for a unique perspective!
After the bridge is the Hanalei National Wildlife Refuge and the Hanalei Taro Fields. Ohiki Road runs alongside this section.
This is as far as we could go up the Hanalei River, about 15-20 minutes past the Hanalei Bridge.
Paddling back is easier with the current.
There was a light rain on our trip back, but that was no problem for our Kauai Surf Co. Lumahai Series Waterproof Backpack. Our gear stayed completely dry inside the pack despite the precipitation.
Overall, the expedition was a peaceful one. As we mentioned above, you will only be able to kayak about 15-20 minutes (no more than a mile) past the Hanalei Bridge until the brush becomes too thick. On most days (except when the river is engorged after heavy rains), the river is calm and peaceful and is a trip that even beginning and novice kayakers can undertake.
---